Content Recap
---
SWTOR Gameplay Video Pitch
So, immediately after finishing CyberGunk I wanted to open the biggest can of worms I had access to and folks, I have done that. I'm still actively working on it every chance I get, and the finish line is in sight, but man oh man.
---
She-Hulk Discourse
Had She-Hulk in my calendar/on the back-burner, as a possible tentpole video idea. Saw the posts about it. And then it came out, I watched it, and I thought it was actually really bad, so I managed to turn this video around in a few days.
Bonus Content
Saints Row Reboot – hot takes, unverified. the sort of thing that would have made a good entire main channel video if anyone cared about it at all.
prey, predator, and 4 half video ideas – burning a bunch of video ideas. the sort of stuff that would never make for a good main channel video.
How Lord of the Rings Screwed New Zealand
Another tentpole in the calendar, I thought there's no way I'd be able to do anything with it because I've no interest in the franchise. Then I remembered "Oh yeah there's all that labour law stuff that I'm always cross about." And turned this around in a few days.
Bonus Content
Pitching the Next Thing to You – Pitched the next thing to you.
HUGE Star Wars Hot Takes Collection – Cooking up a video in real time really, idk if it really works as a way of doing things, but not bad. Shows my working I guess?
---
Ranking Every Star Wars Movie
Banal YouTube Shit.
Bonus Content
all my tentpoles gone – Talking about all the stuff I could've been talking about.
Andor First Impressions – Don't remember what my first impressions were, ideally they line up with my current impressions. Good show, lets get some content out of it.
---
Jack Antonoff
The Internet's Top Jack Antonoff Hater DESTROYED
For a while I've been trying to figure out how to do a more personal, narrative-driven, character-focused video in a way that isn't contrived.
This whole thing (being slightly misinterpreted as a person) did initially genuinely stress and upset me. I was pretty stumped for what to do off the back of it. So you can imagine my surprise and excitement to see a guy suggesting I were a sexist in an article. After that it all clicked together pretty quick (1-2 weeks).
I feel like I could've pushed it further, and its like 1 week more work away from being *actually good* but, I'm pretty happy with it.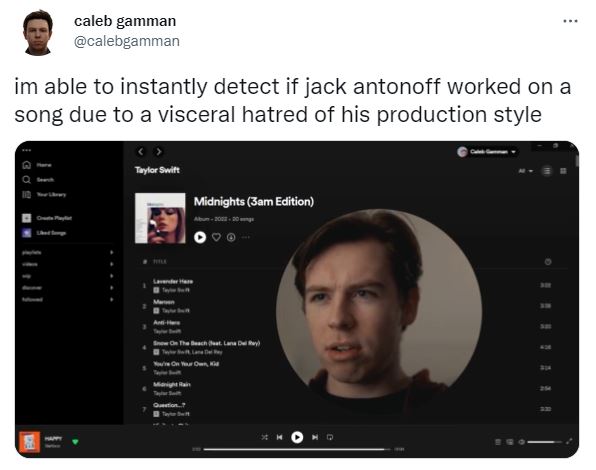 Bonus Content
---
What's Next?
Since the release of CyberGunk, I wanted to do fortnightly topical tentpole slop, and weekly website content. I don't know if I've ever managed that exactly, but I've been consistently within 1-2 days of it. It's been good. I've been able to achieve some fast-turnaround main channel videos that I'm happy with (She-Hulk, Lord of the Rings), and I think the website content has improved for it (Saints Row, Procedural Spaceships, Elon Twitter).
Alongside that I want to be working on the next big thing, which is currently (inadvisably) my SWTOR gameplay video (soon to be something better).
Now.
This "quickly turning around slop while I work on something good" idea is based on two other ideas:
"I'll never be producing hit content"
"My best bet is to play the game of the YouTube algorithm"
I've never been entirely sold on this, but I thought it was worth experimenting with. And now I have experimented with it. And I don't think it's any good. For a few key reasons:
The quality of the average "YouTube user" is shit. I much prefer the people coming in from word of mouth or other sites
The Jack Antonoff tweet shows that *hit content* may not be entirely unattainable for me

And it was disastrous that my most recent video at that exact moment was "blonde good"

I think YouTube is more my "video hosting provider" than my *platform*
To make a video that I'm happy with I need time
"Blonde good" or "Ranking Star Wars" are fine videos, that I'm happy with. I like to imagine I've tackled "low-quality fast-turnaround clickbait," with an unusual level of depth and nuance. And I personally agree with a lot of my opinions that I present. But they are almost indefensible next to my good videos.
The fast-turnaround tentpole videos that I would defend have been the ones where I've really had something to say going in.I always try to make something good that I can be proud of, but I think forcing out a tentpole for the sake of scheduling, has never fully worked for me.
---
So What?
In my calendar, the Andor finale is the next tentpole to do a video on (great show, fits the schedule, on brand). And I think I will do a video on Andor. But, I don't think I want that to be main channel content. I'm thinking (as I did for the Obi-Wan show) I will publish that in addition, publicly, on the side channel.
This Elon Musk Twitter stuff is an area where I have unique takes (so far, unique and correct takes (congratulations me)). And I now think it's worth taking the time to really think about that, and ideally put out one of these "good videos" next week-ish.
I have been pretty happy with a lot of my "tentpole filler content," and very happy with a bit of it. I don't think it's actually bad content, so I don't want it to go away entirely, but I'm thinking to move more of it over here to the website.
Basically, through to the end of the year: Easing off the YouTube schedule a little, but keeping up the weekly website content. With a view to improving the *quality* of both.
Oh also, I've been incredibly busy lately, haven't had a lot of time for my YouTube stuff, and on top of that I've set up a community area on the website lol.
Cheers,
Caleb Gamman
Your sign-up request was successful! Please check your email inbox to confirm.